A very important part of painting is learning to critically assess your own artwork. For the first two years that I painted I didn't realize how beneficial it was to have another set of eyes behind me that would say "what do you think isn't working right here, or right here, or right here?" Sometimes it would be annoying, especially when I LIKED what was on the canvas. But honestly, about 85% of the time when I changed the problem the painting looked better. At least initially, in the early learning stages.
Painting is definitely a series of transformations, and it's fascinating to me. When I started to disagree (to myself, not outloud) with the changes the teacher wanted on my painting sometimes he was right then, more often than not, it became me developing a style that was different than the one I was learning. Not something bad, an evolution of my own work.
Then it was time to paint by myself, in my studio, for the last couple of years. And it's been wonderful. I have started to pick subject matter that I love, experimented with many styles of work, and really enjoyed my self-discovery. The hardest part has been learning to figure out what's WRONG with this piece??? Many times it is something simple, but artists with years of experience can pick it out a mile away with a blind fold on, while I look and think and look and think and drive myself crazy until the light bulb goes off! Any of my teachers could walk up behind me and say "that's not the right value, that should be a lost edge, you need to warm up that shadow." But then, I wouldn't learn what I feel is imperative to developing as a painter, and that is to figure out your own mistakes."
Please indulge me while I compare painting to undergoing therapy. Not necessarily a personal experience, of course....lol. Therapists never tell you what you're doing wrong. They ask you questions to make you think. They don't tell you what your problem is. They guide you through self discovery. They make you think about what is wrong. Good teachers are like that. I just think one doesn't recognize this until they leave and paint on their own, untaught. And the goal of therapy is for you to figure out what's wrong, change it, and then stop seeing your therapist and live your life, loving all the uniqueness of being yourself.
So, I've been working on this piece for the last several months, off and on. Leaving it and coming back to it. My training has primarily been in still lifes, 17th century Dutch Masters type painting.....not landscape. So most of the knowledge I've accumulated has been through books, magazines, and staring for a long time at the Philadelphia Museum of Art at landscape paintings. I decided I wanted to do a landscape from a photo I took last winter looking from Lambertville, New Jersey, across the Delaware River to New Hope, PA, of the Bucks County Playhouse. Plein air painting in the wintertime is not for me, as I am a transplant from California and they don't make clothes warm enough for me. So I grabbed a big canvas (22 x 28") and gave it a go.
Here is the reference photo: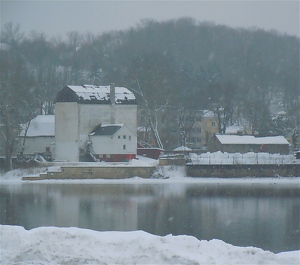 And my sketch: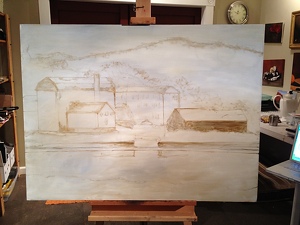 And my initial stages:
Here it is close to finished. Most of the elements I wanted were there. But something was feeling wrong, wrong, wrong. I came back to this and back this. Finally the light bulb went off. The building in the center was too close and too large. It took away from the Playhouse on the left, with it's beautiful textures. So I went to work and took a bit off of the roof, bringing the tree line down a bit, and tried to push it back by making the windows less prominent as well as softening the overall feel of the building. Then I added more trees in front of the Playhouse and one off to the right of the dark building. I played with the snow and reflections in the Delaware a bit and then it felt done!
Here is the finished piece: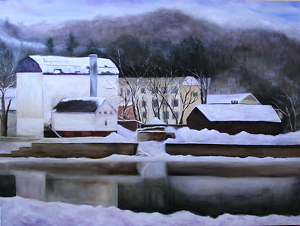 While I have a lot of evolving to do in the area of figuring out what's not working in my painting, and in life, I can feel myself evolving. And as long as I'm moving forward I am happy. I don't want to rush this learning process and am thoroughly enjoying (almost) every moment of it. It really is about the journey, and not the destination.
Happy painting!