« Seashell and Sand Dollar from Sanibel (set of 2) 6 x 6" oil | Main | Happy Mother's Day....Some of my favorite Mother and Child Paintings »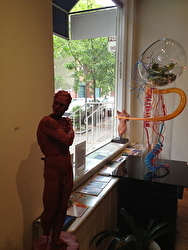 "Body Aesthetic" W.G. Middleton at Twenty Two Gallery, Philadelphia
Today is the day I gallery sit in Philadelphia. I love this day of the month, I've said this before. I enjoy it because I get to hear comments on artwork directly from the collectors: what they like, what they don't like, see what sells in this area of the country. It's also wonderful for me because once a month, when I arrive, a new show is waiting for me! The solo artist of the month has the entire front of the gallery and it looks SO very different every month. How lucky am I?
This month it is the "Body Aesthetic" by W.G. Middleton. It is a combination of sculptures of human exteriors interspersed with "electric sculptures" that are forms of glass lit with moving light. It is fascinating and very unique! William works in collaboration with James Harmon, a glass artist, and Dr. Mindy Weinstein, a Cell Biologist. So my guess is, with the involvement of a biologist, that the electric sculptures are fairly accurate depictions of the body parts they portray.
Here are some pictures from the gallery:
"Borman's Space and Loop of Henly" - glass, acrylic, wire; 30 x 30 x 60" $8000
This is an electric sculpture of the kidney. There are beautiful flashing lights throughout it that don't come across in a still picture, indicating fluids through the organ. It is captivating.
This is a picture showing his human forms, with an electric scupture of the retina between them.
A better shot of "Retina" $6000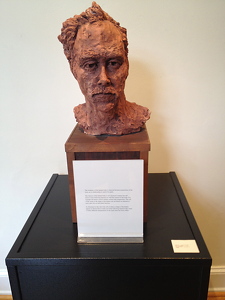 This one is titled "Lost in Thought" -12 x 12 x 30" $1000
So, this show has been a pleasant surprise for me today! It is even more spectacular at night I've heard. I wonder why my science teachers in high school and college didn't make science this beautiful and enthralling!
If you are in the Philadelphia area this is a must-see. The show runs through May 6th at Twenty-Two Gallery, 236 South 22nd Street, Philadelphia. Phone (215)772-1911. The gallery hours are Wednesday - Sunday 12pm-6pm or by appointment.
---
---
Comments