I get a lot of requests to see work in progress. I am usually really bad about photographing as I go along but this time the set up started at a gallery (Timmons Gallery) where I started this painting as a demo, so I took pictures in the beginning. It was a wonderful place to paint with fantastic lighting.
Here is the original set up in the gallery.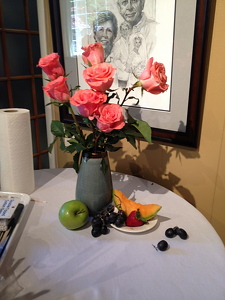 Here is my easel before starting. This was the night after my champagne reception so my work was still hanging throughout the gallery. Behind the easel are two of my pieces and extra roses to play around with. It's funny, the pitcher that the roses are in is the same one that I used in the large Red Roses still life directly behind it. It was a gift from my daughter Alyssa.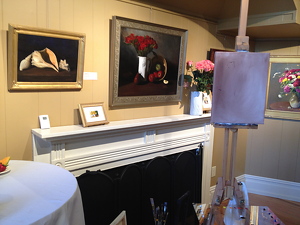 So I painted at Timmons for a few hours and then had the pleasure of an out of town artist, whose work I love, Christine Drewyer, stop in to the gallery. I had a lovely conversation with her about painting and color and her work and my work and by the time I looked at my watch it was time to pack up.
Here is the set up after I moved it to my studio and spent all weekend away from it. It was very warm, and my poor roses drooped quite a bit. But I left them there to be able to observe color (not shape)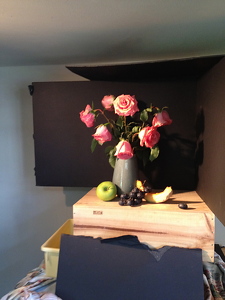 Now I am almost done. I am very happy with the container and the bottom half of the painting.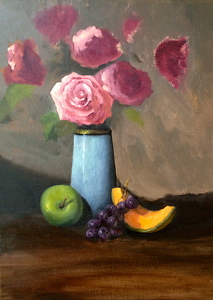 Here it is, really almost done. I was not happy with how much space the table took up at the bottom (I cut it off in this picture, it was much longer!) so....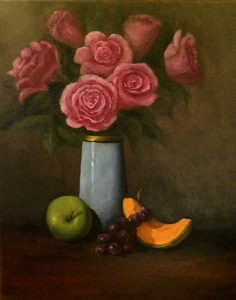 I cut the table off a bit by putting in shadow at the bottom. I like the balance in the final painting a lot more. I also added some leaves to the right side in front of the far rose. It was coming forward too much. The leaves pushed the rose back a bit and softened a spot that wasn't working.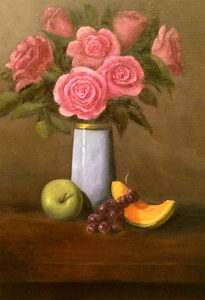 So, that's it for this painting! I hope you like it. I plan on doing a more detailed progression with the next one. It's nice to be able to look back and see how subtle changes make a big difference in the finished painting.