---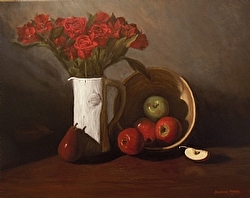 I read a very interesting article by Jack White this week titled "What's Up with Ebay?" What he did, in a nutshell, is created a fake persona artist (very hot young single artist), wrote little fake stories to go along with his artwork, and for THREE years he sold work on ebay. He started out at $.99 per artwork - plus shipping for original oil paintings! He made more money each year and I think in year three he earned somewhere in the $45,000 range. It was an experiment for him on ebay selling. At the end he was selling the paintings in the $500 range. It was a lesson on building up collectors, and also building a good reputation as a seller on ebay.
So I went to e-bay to look at original oil paintings. I was pleased (and dismayed) to find that there are quite a few in the $.99 range. As someone who is starting to collect art I was pleased. As someone who sells art for a living I was dismayed. Wow, the canvas/board alone costs more than that. And oil paints are really expensive. But then I started to realize that in every job you have to start at the bottom, in the mailroom so to speak. No offense to anyone who really works in a mailroom. Actors have to do Preparation H commercials before they win the Academy Award. Rachel Ray started out doing knife demonstrations in Macy's, long before launching her career.
Here are some things I'm curious about:
Do you (my readers and friends) buy stuff on ebay??
Would you buy art on ebay?? For $.99??
If not art, what do you buy on ebay??
I'd love to hear your thoughts on this! I'm going to close for now, and go look for some treasures on ebay!
Comment on or Share this Article →
---
---